Our Special Educational Needs (SEN) Coordinator (SENCO) is Mrs Laura Potter who can be contacted through the school office if you have any concerns.
In this section you will find documents which may help you.
Please click on the titles below for more information:
All schools are required to publish an SEN report which outlines their graduated approach to identifying and supporting pupils with SEN.
All schools must publish a school SEN policy to describe the school provision for pupils with SEN
All schools must comply with government legislation and have an Access Audit and an Accessibility Plan which is reviewed every 3 years. The purpose of this plan is to show how this school intends, over time, to increase the accessibility of our school for disabled pupils.
SEN and disability code of practice 0-25 years
Published June 2015 . This is statutory guidance for organisations which work with and support children and young people with special educational needs or disabilities. It relates to part 3 of the Children and Families Act 2014.
Birmingham's Local Offer - As a result of the Children's and Families Act 2014 it is the responsibility of the local authority to develop and publish a Local Offer setting out the support they expect to be available for local children and young people with special educational needs (SEN) or disabilities.
For more information on Birmingham's local offer please follow the link https://www.localofferbirmingham.co.uk/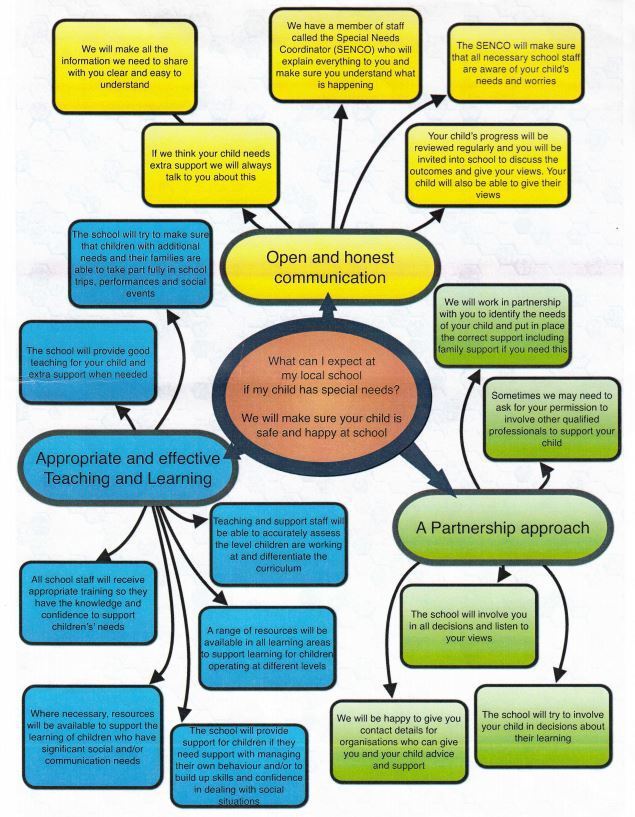 SEND at home
Preparing your Child to Return to School
Here are some ideas to use that will help your children feel ready to go back to school:
Talk - your child might have worries about returning to school. In the run-up to returning, make time for little conversations about how they're feeling about going back to school. Be careful how you do this - the aim is to see if they do have worries or concerns, not to plant new ones!
If your child does have worries, acknowledge their concerns first before offering reassurance.
For example:
I bet other children will feel worried about having a new teacher, too. That's why your teacher will spend lots of time explaining how everything will work.
And a good way of turning a negative into a positive is using the phrase, "At least..."
As in:
I know we can't spend time together today, but at least we can have some time straight after school

I know you're in a different class from your best friend, but at least the teachers are going to make sure everyone makes new friends
Explain that there will be new rules and routines
It's important our children don't go into school expecting everything to look like normal - only to get a huge shock when they walk through the door. Explain things will look different - but tell your child not to worry, because the teachers have been thinking about how to make the school safe and will help you get used to the new layouts and routines. It can also be reassuring to talk about the things that haven't changed.
Convey Calm
It's natural for all parents to have some level of anxiety about returning their child to school. But however you feel on the inside, it's important to convey calm to your child. Children pick up on lots of little clues about how their parents are feeling - and they use this information to inform how they should be feeling. If we look worried, they pick up on this and start worrying too! So, if you do have concerns, it time to be an actor. However you feel on the inside, aim to convey calm on the outside.
To do this, we need to think about:
What we say (and what they overhear)

Our tone of voice

Our body language
Resources to help prepare your child to transition back to school:
Children's book to offer some reassurance around the Coronavirus and to let them know they are not on their own.
Parental support
Click on the links below to access support for parents and children at home during the Coronavirus pandemic:
Please find below support lines for all parents and carer's across the city, offering telephone consultations during the school shut down period. This service is self-referral by parents and is available for any issue they wish to raise around their children and family situation at this time.
'Access to Education' which has some useful resources:

Need someone to talk to?
Struggling to cope with feelings? Pause is here for you, if you are under 25 and have a Birmingham GP.
We offer a non-judgemental listening ear, self-help strategies plus skills for managing difficult situations and feelings. We are open 10-6 seven days a week.
Drop us an email on askbeam@childrenssociety.org.uk or call 0207 8414470 and we will arrange for one of our friendly team to call you back.
For more info check out https://www.forwardthinkingbirmingham.org.uk/
Mental Health Support
Services offered by Birmingham Community Healthcare Service during Covid 19
At Guardian Angels we are always here to listen and support pupils and their family.
Complaints
Most complaints are easily resolved with the class teacher or SENDCO. However if after consultation with them parents/carers feel they have not received the outcome they would like, they will be directed to our Head teacher Mrs H Milligan, who will endeavour to resolve issues. She may direct parents to the Governing body if the needs arise. The school's complaints policy is published on our school website.

We also encourage positive feedback from our parents and carers on our SEND provision. We are grateful for any feedback to improve our services to ensure the best outcomes for our children.