Catholic Life
As a Catholic school, we play a key role in the faith formation of every child. A pupil's experience of the Catholic life of the school will undoubtedly influence their faith as an adult and so it is important we offer an experience that is truly outstanding.
From the moment your child joins Guardian Angels, they will become active members of a Catholic community.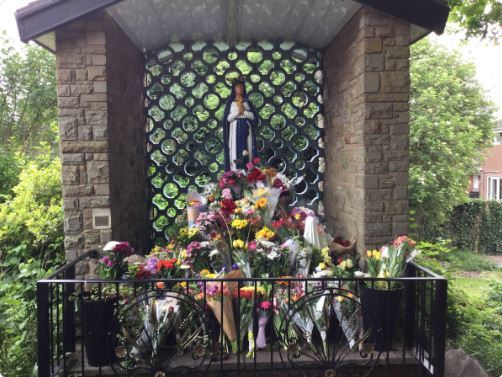 School Assemblies and Masses
All children have a daily act of worship. These take different forms. Each week the children gather to praise God in singing, which supports our spiritual life and preparation for Mass and assemblies.
On Fridays we have our Gospel Assembly on a Monday we hold our Star Pupil Assembly celebrating the gifts and talents we have been given by God.
This lovely celebration assembly is a chance to all gather to praise God for our achievements. House points are awarded, certificates are given out and other achievements are shared and celebrated. Children also share achievements from outside of school.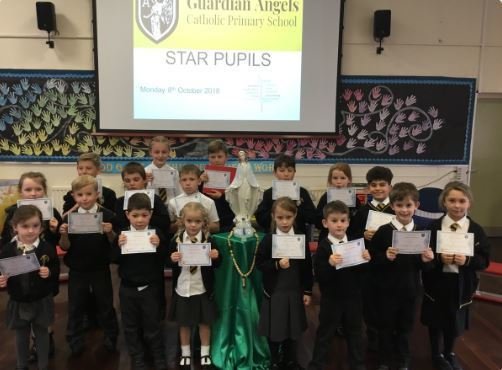 Every Tuesday we come together for a hymn practice where we praise God though song.
On Wednesday there is a school Mass celebrated by joint year groups and regular whole school Masses throughout the term. Mass is celebrated in the parish church. The Mass readings are prepared by children from all year groups, on a rota basis. All parents and parishioners are very welcome to join the school at Mass. You will be kept informed about Mass via the weekly newsletter.
Key Stage assemblies and individual class collective worship takes place on a Thursday.
Throughout the week classes take part in whole class collective worship led by the class teacher, teaching assistant and children.
Each class leads one class assembly during the year for the whole school to watch.
Early Years
On joining Guardian Angels, your child begins a unique journey designed to ensure they achieve their full potential. As first educators of your child in their faith, you as parents will be supported by the staff to build a strong partnership with the school.
During Reception each child will:
Be actively involved in a daily act of worship including class liturgies, prayer services and assemblies

Be given a class prayer bear to share at home and with their family

Attend weekly Masses and contribute to Mass

Be allocated a prayer partner to actively support the child in learning how to pray and how to contribute to the prayer life of the school
Key Stage One
During Key Stage One, all children will continue with the provision offered in Early Years. However as they grow in maturity, they will be encouraged to have more of an active role in key liturgical events.
During Key Stage One each child will:
Lead a whole Mass with their class including reading in Mass, preparing liturgical music and participating in the offertory procession

Begin to plan and lead collective worship

Have the opportunity to become Liturgy Leaders

Be given a class prayer bear to share at home and encourage the formation of a relationship with Jesus through prayer

Take part in Harvest and Nativity
Key Stage Two
A more diverse range of opportunities are offered to Key Stage Two children in order to enable them to develop Catholic life
During Key Stage Two each child will:
Receive a preparation programme in order to prepare your child for the sacraments of Reconciliation, First Holy Communion and Confirmation. This is designed to allow your child to receive the sacraments with maturity and understanding

Go to confession throughout the year particularly during Advent and Lent

Develop and understanding of vocation through vocation days and workshops

Attend a residential trip to Alton Castle to come together as part of one family on a Catholic retreat

Take part in a Stations of the Cross Service and Christmas Carol Service

Visit our local Cathedral, have a tour and attend Mass there

Being fully engaged with fundraising in school whilst knowing the importance of Catholic Social Teaching

Attend and lead voluntary rosary during the month of October and May

Support with our monthly parishioners afternoon teas, Easter and Christmas dinners to forge strong links between the parish and school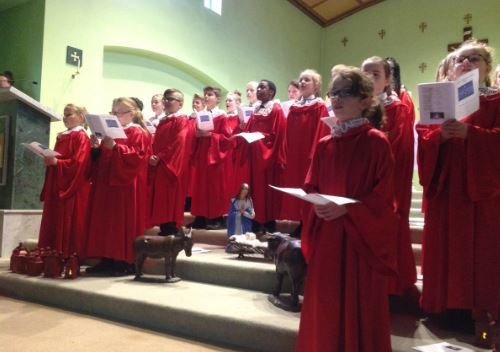 Social Action
At Guardian Angels we are committed to encourage our children to actively live their faith. Each child is encouraged to make small contribution throughout the year that can make a huge difference to the lives of those less fortunate than ourselves.
During their time at Guardian Angels, each child will have the opportunity to:
Invite family members into school to share in a fundraising activity

Choose a charity to raise money for

Collect food for and learn how a Foodbank helps the local community

Be encouraged to sacrifice as part of Lent

Make deliveries to the Foodbank

Decide how much money to give to charity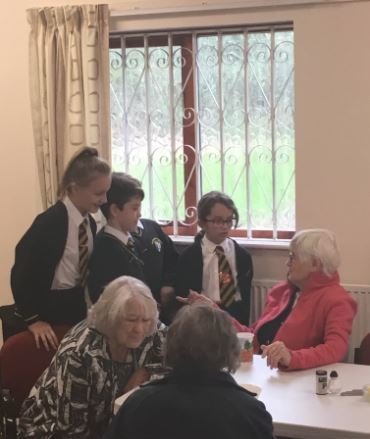 SMSVC
Spiritual, moral, social, vocational and cultural (SMSVC) is a key feature of life at Guardian Angels Primary school. Children are provided with a wealth of opportunities to develop spiritually through inspiring child led prayer services, collective worship, use of high quality prayer resources and thought provoking lessons. From a moral perspective, the children are encouraged to approach problems and decisions focused on 'What Jesus would do?' Lots of opportunities are provided for pupils to socialise with others from different socioeconomic, ethnic and other religious groups so that children develop a respect for all people as children of God. Children's cultural development is enhanced by our topic work in which we study national and international topics; engaging with the cultures of people who live there.


Gospel Virtues
Pupils at Guardian Angels Catholic Primary school are growing to be . . .
Grateful for their own gifts, for the gift of other people, and for the blessings of each day; and generous with their gifts, becoming men and women for others.
Attentive to their experience and to their vocation; and discerning about the choices they make and the effects of those choices.
Compassionate towards others, near and far, especially the less fortunate; and loving by their just actions and forgiving words.
Faith-filled in their beliefs and hopeful for the future.
Eloquent and truthful in what they say of themselves, the relations between people, and the world.
Learned, finding God in all things; and wise in the ways they use their learning for the common good.
Curious about everything; and active in their engagement with the world, changing what they can for the better.
Intentional in the way they live and use the resources of the earth, guided by conscience; and prophetic in the example they set to others
British Value and Gospel Virtues

Some of the ways we promote this at Guardian Angels

Democracy

Gospel Virtues: Discerning,Eloquent, Intentional, Prophetic


Elections for positions of responsibility in school.

School Council

Class Debates dealing with different viewpoints

Writing balanced arguments in Literacy

Volunteering to help others in the local, Parish, wider and global community.

The Rule of Law

Gospel Virtues: Truthful,Generous, Learned, Active.


School Behaviour Policy

Classroom Rules

Visits and talks from our police community support officer

Internet Safety training

Use of Biblical Stories model to children people making the right choice, even in difficult situations.

The teaching of JIGSAW

Individual Liberty

Gospel Virtues: Wise, Curious,Faith- filled, Grateful.

Work on Vocations - we encourage children to recognise their talents and fulfil their potential.

All children are treated equally, fairly and given the same opportunity to take part in activities and experiences as we are all children of God.

Behaviour Policies and Procedures put emphasis on children being responsible for their own actions.

Pupil Voice through school council / pupil interviews and an annual pupil survey allows children to express their own views about school and take action.

Freedom of speech is modelled through pupil participation in class discussions, dialogue with staff, pupil questionnaires and the knowledge that children can speak freely and openly to staff members.

Mutual Respect and Tolerance of those with Different Faiths and Beliefs

Gospel Virtues: Loving, Hopeful,Compassionate, Attentive


Children experience and learn about music from all over the world during Topic work.

Children learn about the lives of people from other places in the world.

The RE programme of study includes work on different faiths.

Children in Key Stage 2 are learning to speak Spanish.

Children have access to a range of books which explore other faiths and cultures.

Liturgy Leaders